Black Paw Print Fleece/Sherpa Weenie Warmer
Black Paw Print Fleece/Sherpa Weenie Warmer
Incredibly soft and snugly Black Paw Print Fleece and yummy soft Sherpa lining combine to create the perfect Weenie Warmer.
The most versatile dog blanket EVER! During the winter months Buck likes to use it as a sleeping bag. During the summer months he prefers to have the blanket totally laid out so he can nest in it.
Weenie Warmers are machine washable! Machine Wash Cold, Tumble Dry Low.
PLEASE READ ******** Your Weenie Warmer will be custom made to your dog's specifications. Please include your dog's approximate weight and name and select the appropriate size.

Since our items are custom made, please allow 5-10 business days to process & ship your order. During certain times of year production time can be longer.

Weenie Warmers are Dachshund Tested, Dachshund Approved.
Proudly made in the USA by real-live-people.
© 2021 Weenie Warmers
Weenie Warmers is a registered trademark.
All materials, content, and designs contained within Weenie Warmers listings, products, and materials are the intellectual property of Weenie Warmers and may not be copied, reproduced, distributed or displayed without Weenie Warmers express written permission.
Customer Reviews
01/16/2021
Cathy W.

United States
Thanks for a Great product
We adopted our mini dachshund 2 weeks ago and she LOVES her new Weenie Warmer! Thanks for a Great product
10/19/2020
Jordan T.

United States
Perfect for couch snuggles!
Schnitzel absolutely loves his weenie warmer! Sometimes he burrows into the pocket and sometime we just drape it over him. Perfect for our couch snuggles!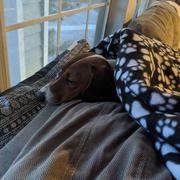 05/15/2020
Christi

United States
Best Purchase Ever!
My little Bubba loves his weenie warmer so much. He dives into it at bedtime. Sometimes I take it out of my bed during the day if he is a little rambunctious. He goes right in it for a little nap and a little downtime and snuggle time for me. This is bubba on one of our lazy quarantine mornings.