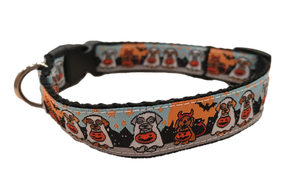 Dachshunds in Costumes SaucyDog Collar
It's scary how adorable your dog will look in this SaucyDog Collar. Adorable Dachshunds dressed as Little Devils and Ghosts. Stop it already - it's so cute I can't handle it!!!

Specs
Adjustable Nylon Collar
Solid Metal D-ring
Width: 3/4"
Contoured Plastic Side Release Buckle
Machine Washable
Made by real live people in the U.S.A.
Custom sizes available upon request.