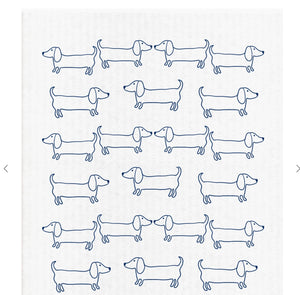 Dachshund Print Eco-Friendly Swedish Dishcloth
Reduce paper waste with the amazin & reusable Swedish Dishcloth!
Swedish dish cloths make cleaning up messes, washing dishes or wiping windows a cinch with their tough yet pliable construction. Once done with your chore simply wring out the dish cloth and it's ready to be reused.
Made from an all natural pairing of cotton and cellulose, these cleaning cloths are more hygienic than a sponge and can be used in place of paper towels to clean glass, countertops and stainless steel- plus, they're always up for tackling dishes. Easily washable in the top rack of the dishwasher or washing machine.