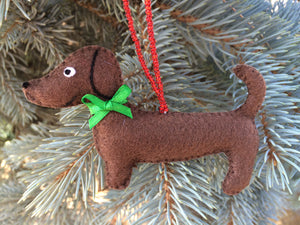 Dachshund Christmas Tree Ornament
Dachshund Christmas Tree Ornament
These little stuffed Dachshund Christmas Tree Ornaments will add a little extra "Jolly" to your holiday tree. They also are adorable gift toppers to add a little pizzazz to your gift wrap.
Dachshunds measure 4" long x 2 1/2" tall.
Dachshunds come in 7 different colors: Chocolate Brown, Caramel, Wheat, Black, Light Gray, Dark Gray, and Dachshund Red.
Made of felt and filled with polyester filling.