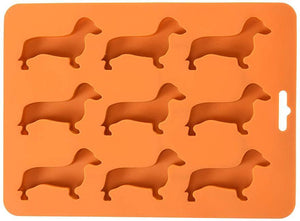 Dachshund Silicone Ice Cube Tray/Mold
CHILLY DOGS - Use this fun silicone tray to make adorable dachshund-shaped ice cubes for your next gathering or party. The flexible material allows you to pop out the frozen pets with ease so you can start chilling a glass or punch bowl quickly.

VERSATILE - Fill the tray with fruit juice or wine to make your own little pup-sicles, or use it to set gelatin, chocolate, gummy candy and other confections into cute dachshie-style treats. It can even be used to mold handmade soaps.

SAFE AND DURABLE - Soft mold is made of BPA-free, food-safe silicone rubber. Designed to refrigerate or freeze, it is non-toxic, easy-to-clean and odor/stain-resistant.

COOL GIFT - Makes an interesting novelty housewarming present for wiener dog lovers who like to entertain.

SIZE/CARE - Mold was designed in the USA and measures 6 1/4"H x 8 1/2"W x 1/2"D. Yields 9 canine-shaped cubes that each measure 2 1/2" x 1 1/2"H x 1/2"D. Dishwasher-safe.
To keep the price of this item as low as possible we ship direct to you from our factory. Please allow 2-4 weeks for delivery.