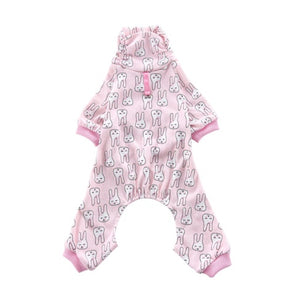 Billy LOVES his nighttime routine. We start it off with a quick trip outside, followed by a visit to the kitchen to load up his Kong with a chicken jerky treat. Then it's off to the bedroom to put on his favorite jammies, and then he races to the bed.
Bunny Jams have a higher neck then our regular jammies, and feature cute little bunnies on a pink background with darker pink trim.
Made of 100% Cotton
Pyjamas are Imported. Please allow up to 2-4 weeks for delivery.
**PLEASE CHECK YOUR DOG'S MEASUREMENTS WITH THE CHART PRIOR TO ORDERING.