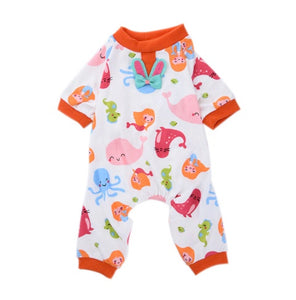 Billy LOVES his nighttime routine. We start it off with a quick trip outside, followed by a visit to the kitchen to load up his Kong with a chicken jerky treat. Then it's off to the bedroom to put on his favorite jammies, and then he races to the bed.
Mermaid Jams feature multi color ocean life including whales, octopus, seahorses and mermaids on a white background.
Made of 100% Cotton
Imported. Please allow up to 2-4 weeks for delivery.
**PLEASE CHECK YOUR DOG'S MEASUREMENTS WITH THE CHART PRIOR TO ORDERING.
XS: back length: 8.5"
S: back length: 9.75"
M: back length: 11.5"
L: back length 12.5"
XL: back length 13.25"