Dach Dynasty Weenie Warmer - Camouflage Fleece/ Brown Minky
The "Dach Dynasty" Weenie Warmer
Our favorite Weenie Warmer is made of thick cozy camouflage fleece with a brown minky lining. The "Dach Dynasty" Weenie Warmer is sure to be a hit!
The most versatile dog blanket EVER! During the winter months Buck likes to use it as a sleeping bag. During the summer months he prefers to have the blanket totally laid out so he can nest in it.
Weenie Warmers are machine washable! Machine Wash Cold, Tumble Dry Low.
PLEASE READ ******** Your Weenie Warmer will be custom made to your dog's specifications. Please include your dog's approximate weight and name and select the appropriate size.

Since our items are custom made, please allow 5-10 business days to process & ship your order. During certain times of year production time can be longer.

Weenie Warmers are Dachshund Tested, Dachshund Approved.
Proudly made in the USA by real-live-people.
© 2021 Weenie Warmers
Weenie Warmers is a registered trademark. Utility patent pending.
All materials, content, and designs contained within Weenie Warmers listings, products, and materials are the intellectual property of Weenie Warmers and may not be copied, reproduced, distributed or displayed without Weenie Warmers express written permission.
Customer Reviews
10/25/2020
Morten D.
Denmark
5 stars from Bella
Even though Bella is a Jack Russell lady of 14 years, she loves her WeenieWarmers. She has 2 of them now, one in each end of the large sofa, that we, her hoomans, are graciously allowed to sit in.
10/21/2020
Alana Q.
United States
03/31/2020
Lindsey R.
United States
Molly Loves Her Weenie Warmer
Molly loves the Weenie Warmer. After playing with the packaging she crawled right in and made herself comfortable. She didn't like the super furry brown side so we turned it inside out and she was more comfortable with the camo fleece side. She loves it and this will work perfect when we are camping. Blankets can be bulky and annoying to pack but the Weenie Warmer is compact and a perfect travel companion.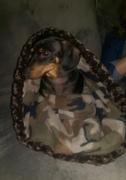 01/02/2020
Cindie A.
United States
Great Little Snuggle Sack
I have had a great experience with this company. Our little weenie loves his weenie warmers. We have also bought a coat for him.
Great job Weenie Warmers!!
The warmer is for my peg pig and it is super soft and very comfortable, I would even sleep in it if I could. Great job Weenie Warmers!! dt