Weenie Love Weenie Warmer
By Popular Demand!  
We get lots of requests for a Weenie Warmer that has red in it but is not all red.  Well here it is!  This gorgeous Weenie Warmer is a yummy neutral gray but the little Weenie Dogs are red!  And it has little red hearts, too!  (because we all know how a little Doxie can steal your heart!) It has a fluffy sherpa lining that's sure to keep your little doggy nice and toasty all winter long.

The most versatile dog blanket EVER! During the winter months Buck likes to use it as a sleeping bag. During the summer months he prefers to have the blanket totally laid out so he can nest in it.

Weenie Warmers are machine washable! Machine Wash Cold, Tumble Dry Low.


PLEASE READ ******** Your Weenie Warmer will be custom made to your dog's specifications. Please include your dog's approximate weight and name and select the appropriate size.

Since our items are custom made, please allow 5-10 business days to process & ship your order. During certain times of year production time can be longer.

Weenie Warmers are Dachshund Tested, Dachshund Approved.
Proudly made in the USA by real-live-people.
© 2021 Weenie Warmers
Weenie Warmers is a registered trademark.
All materials, content, and designs contained within Weenie Warmers listings, products, and materials are the intellectual property of Weenie Warmers and may not be copied, reproduced, distributed or displayed without Weenie Warmers express written permission.
Customer Reviews
10/27/2019
Jenna
United States
Waldo the Wiener Highly Approves!
After seeing how much my puppy Waldo loves to burrow, I was thrilled to find a product that would be just right for him. He absolutely loves this warmer. Sometimes when I can't find him, he is usually just cuddled up inside. Highly recommend for a fellow dachshund owner or for dogs that love to snuggle under blankets. We love it so much we bought another as a backup.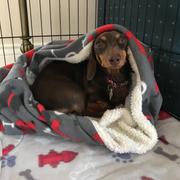 08/18/2019
Jeff P.
United States
Love it!!!
This is our 4th Weenie Warmer and we love it just as much as the others. It's perfect for any season. Jack will snuggle inside during the cool nights and cold winters or lay on top during nicer weather. They are so easy to clean and are made to last. We will definitely be purchasing another very soon! Thank you!!