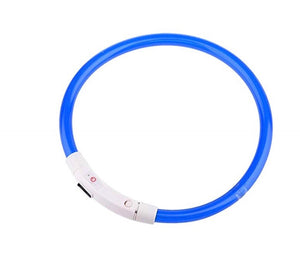 LED Rechargeable Light-Up Collar
Your pup will get into the spirit (and be easier to see in the dark) wearing an LED Light Up Collar. We love the fact that you can cut down the collar to your dog's neck size for a perfect fit! Just plug the collar into any USB port to recharge the light. Adjust the collar to Flash, Slow Flash, Constantly Lit, or Off.
Made of PVC
Size Detail:
Small (35cm / 13.78 "* 1cm / 0.39" * 1cm / 0.39 ")
Medium (50cm / 19.69 "* 1cm / 0.39" * 1cm / 0.39 ")

To keep the price of this item as low as possible we ship direct to you from our factory. Please allow 2-4 weeks for delivery.