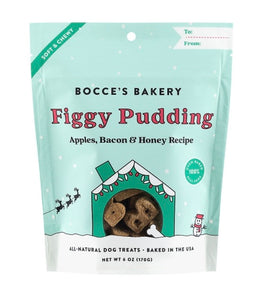 Bocce's Figgy Pudding Treats
A classic holiday treat all wrapped up in a soft & chewy cookie for your pup! Packed with peanut butter (from 100% fresh roasted peanuts!), crisp apples, honey, & savory bacon, this recipe is sure to have your pup's tail wagging throughout the holiday season.Whole food ingredients mean you can feel good about serving them to your pet!
INGREDIENTS: 
Oat Flour, Peanut Butter, Coconut Glycerin, Honey, Flaxseed, Apples, Bacon & Citric Acid (Preservative).
14 Calories per treat.