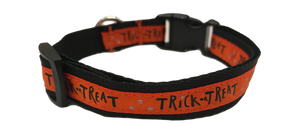 Trick-or-Treat SaucyDog Collar
Your dog isn't much for wearing a costume? No problem! They'll get their message across that they're looking for treats when they wear this Orange and Black Trick-or-Treat Collar from our friends at SaucyDog. 

Specs
Adjustable Nylon Collar
Solid Metal D-ring
Width: 1/2"
Contoured Plastic Side Release Buckle
Machine Washable
Made by real live people in the U.S.A.
Custom sizes available upon request.